By Wayne Berger and Peter Levett, Joint Chief Executives, iShack Ventures
In our Asset Mag Technology column, we looked at a few Smart Technologies that are making an impact in the Real Estate and Property Industries. In our Smart Tech to Watch series, of which this article is the first, we'll dig into these technologies individually to see how they are finding application, and what benefits they offer. 3D printing is our topic for this month.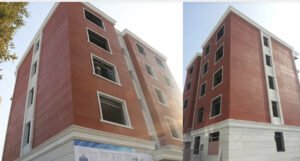 In 2015 – almost a decade ago now –  the Chinese construction company WinSun made headlines when they created the world's first 3D printed apartment buildings in China. The 3D printing process allowed WinSun to create modular building components that could be quickly and easily assembled on site, which reduced not only construction time but labour costs as well. Because the 3D printed components were also lightweight and used less material than traditional construction methods, the project produced less waste and overall costs were reduced even further. The 3D printed apartment buildings were completed in just a few months, demonstrating the potential for 3D printing to significantly speed up the construction process.
Since then, there have been several 3D printed construction projects worth noting, including 3D printed bridges in Spain and The Netherlands, and houses and more by Branch Technology and ICON in the United States. South Africa has also seen its share of 3D printed construction projects.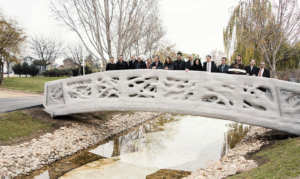 The "New Jerusalem" project, initiated by the University of Johannesburg's Fada Architecture Department uses 3D printing technology which is capable of printing concrete structures. The project aims to provide affordable housing to low-income families in South Africa, and has so far delivered two successful prototype houses, each consisting of 26 layers of 3D printed concrete walls. The houses were built in just three weeks, and the team estimates that they cost 30% less than traditionally constructed homes.
The "Mars House" project in 2021 saw a team of South African architects and engineers create a 3D printed house that is capable of withstanding the harsh conditions on Mars. The house, which was constructed using a 3D printing robot, is made entirely of recycled materials and can be built in just two weeks. The team believes that this technology could be used to build sustainable housing on Earth as well.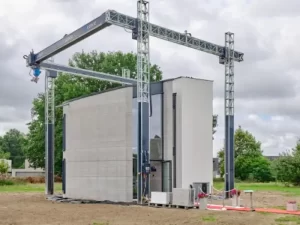 And the "Project Gateway" initiative, led by the Belgian-based 3D printing company Kamp C, aims to build the world's first 3D printed eco-housing development in South Africa. The development will consist of five houses, each constructed using 3D printing technology and sustainable materials. The team hopes that this project will serve as a model for future sustainable housing developments around the world. The printer that will be used for the project is capable of producing walls up to 8 metres wide and 3 metres high.
As property developers and real estate companies continue to look for more cost effective ways to build, 3D printing should be considered. It opens up a new realm of opportunity, potential cost savings and constriction advantages. Some of the applications to consider are:
Building Components:

One of the most common applications of 3D printing in construction is building components such as walls, roofs, and floors. Using 3D printing, these components can be made quickly and accurately, reducing construction time and waste.
Formwork:

These temporary structures are used to support concrete during construction. 3D printing can be used to create formwork more quickly and precisely than traditional methods, which reduces labour costs and improves construction quality.
Customised Design:

3D printing allows for highly customised designs to be created quickly and easily, allowing for unique architectural elements to be added to a construction project.
Construction Equipment:

3D printing can even be used to create construction equipment and tools, reducing the time and cost of acquiring and transporting these items to the job site.
Locally, from the project examples we've shared, it seems clear that 3D printing is being explored to address our shortage of affordable housing for lower-income households. Because 3D printed houses can be completed exponentially faster than traditionally built ones, and produce less waste in the process, it seems a viable way to create safe homes for those that need it most.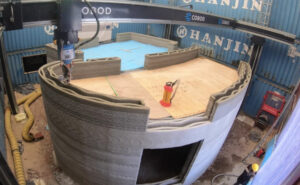 But let's not discount the impact this technology can have on higher income housing markets, commercial rental housing businesses and even infrastructure – such as foot bridges. Developers looking to attract first-time buyers could keep their apartments more affordable with 3D printed building components, without compromising on quality. And those looking to attract buyers and tenants that value environmentally friendly living/ working environments could benefit greatly from the ability to use less construction material, implement recycled materials or simply save on the waste produced during the construction project to achieve higher Green Star ratings.
Since the Built Environment contributes 39% of gross annual carbon emissions globally, according to the World Economic Forum, perhaps it's time to start taking 3D printing more seriously in the construction sector.